It's no secret that Brenda Leigh Johnson loves a celebratory (or stress-related) snack when she's hard at work. The drawer she keeps stocked with sweets and treats comes in handy when times are tough. Her first choice? The classic, chocolatey treat by Hostess, the Ding Dong.
Hostess first began operation in 1919, with the introduction of the classic cupcake. The cupcake, a chocolate sponge filled with cream and topped with a thin coating of chocolate icing, made a major impact on the pre-packaged food industry. All over the country, people were indulging in these quick cakes, making them hard to ignore. In 1925, Continental Baking wanted to add a line of sweets to sell alongside another home pantry staple, Wonder bread. Noticing the cupcake, Continental Baking purchased the recipe and rebranded a branch of the company as "Hostess." Hostess would go on to release 11 more desserts, some in varying flavors to satisfy whatever craving your sweet tooth may call for.
For those who are unfamiliar, the dessert is made up of a chocolate sponge cake, about 3 inches in diameter and an inch in height. The cakes, round with a flat top and bottom. The center is filled with a vanilla cream, and the whole cake is coated in a thin layer of milk chocolate. The cake is then wrapped in silver foil, preventing any melting chocolate from smearing lunchboxes or, in this case, desk drawers.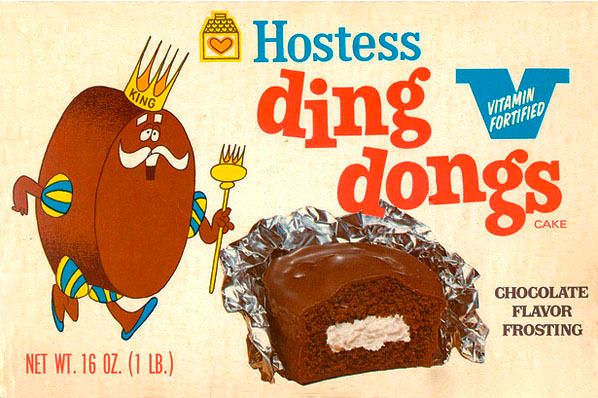 Related image

Vintage Ding Dong Wrapper by Hostess
To advertise the Ding Dong, Hostess came up with a new character named King Ding Dong, a snack cake brought to life as ruler of all other snacks. Complete with crown and scepter, he joined a league of other Hostess characters Captain Cupcake, Twinkie the Kid, Happy Ho Ho and Fruit Pie the Magician. The king morphed to suit his market and match the name of whatever the snack was being marketed as; where there were "King Don's," he was "King Don." Where there were "Big Wheels," he was a Native American chief named "Chief Big Wig."
Care see what all the fuss is about? Ding Dongs are still available in grocery and convenient stores across the nation. Grab a box on your next grocery run and keep them around the next time you watch The Closer.
EVERY NIGHT AT 6 PM & 7 PM